Congratulations Kunlun Mountain Acupuncture for "Best Acupuncture", "Patient's Choice", and "Reader's Choice" wins! To see why Annapolis patients vote Kunlun Mountain Acupuncture the "best" use the button below to book your appointment today!

Description of Acupuncture and East Asian Medicine Services: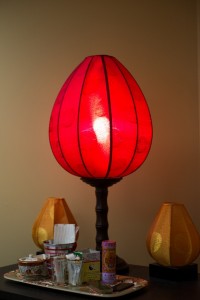 New Patient Comprehensive Evaluation (90 to 120 minutes): This treatment is recommended for patients who wish to address multiple conditions, conditions that have become chronic (ie. back pain from an injury that occurred 6 months ago or longer), or who have a history of complicated or significant health issues such as auto-immune disorders or oncology, etc.
This appointment includes a detailed review of your current and past health conditions, a 20 – 30 minute Contemporary Chinese Pulse Diagnosis, and other such physical evaluations such as tongue or hara abdominal diagnosis, that the provider feels is necessary to complete a comprehensive treatment plan.
The evaluation will be followed by an initial needle treatment. Your provider will discuss with you a detailed summary of findings along with a treatment plan that includes acupuncture follow-up suggestions, Chinese nutrition and herbal supplement coaching, and therapeutic exercise and lifestyle changes that will support your treatment goal.
New Patient Acute Condition Evaluation (60 minutes): This treatment is recommended for patients who have an immediate, acute condition that requires immediate, short-term treatment such as a recent injury, pre or post surgical support, breech presentation of your baby, or labor induction.
We will briefly discuss your specific condition and any relevant health history that applies to it, followed by an initial needle treatment. Should you decide in the future to continue treatment beyond the acute condition treatment plan created by you and your provider, we offer a "transitional" evaluation appointment.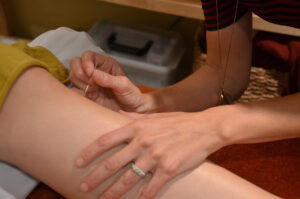 Follow-up Treatment (45 – 60 minutes): This treatment option is for established patients only. Your acupuncturists will briefly consult with you and conduct shortened diagnostic procedures such as pulse or tongue evaluation to determine treatment progress and make adjustments to your treatment plan as needed.
Services rendered during follow-up treatments may include the needling or application of herbal moxabustion or therapeutic essential oils on specific acupuncture points, cupping, gua sha, or Asian based manual therapies such as shiatsu, tuina, thai bodywork, or zero balancing.

New Patient Vacation Care Evaluation and Treatment (60+ minutes): This treatment option is for new patients who are already receiving routine acupuncture care from a provider outside of the Annapolis metropolitan area.
Whether you are visiting your relatives for the summer, on an extended vacation in our area, or just in town for a conference and need an emergency treatment, this service is for you.
Your acupuncturist will conduct a limited evaluation to check for medical contraindications or red flags, and will follow the treatment plan recommended by your current acupuncture provider. This treatment requires that we are able to contact your current acupuncturist prior to treatment and we are able review your providers prescribed treatment plan.
To book this service, please call our office so that we are able to gather all of the necessary paperwork from your current provider prior to seeing you in the office. Additional follow-up treatments will be billed at the "Follow-up Treatment" price.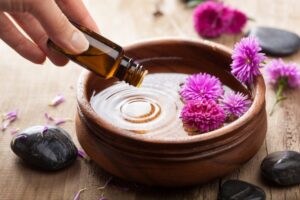 Aroma AcuPoint Therapy (45 minutes): This treatment combines the unique healing power of essential oils with the theoretical understandings of Chinese Medicine.
After a brief evaluation to determine your session goals, your acupuncturist will choose a specific Aroma AcuPoint protocol. Depending on the protocol selected, specific oils are applied by finger or with the use of a cotton ball and held on acupuncture points throughout the body for up to a minute on each point.
Essential oils have a direct, measurable effect on the body. As the oils are absorbed by the olfactory pathways of the cranial nerves, nuero-endocrine functions in the brain and body are activated. Localized absorption through the skin and into the blood circulation at specific acupuncture points activates the properties of each point and effects change in the muscular and neuromuscular systems.
This is a wonderful treatment for someone who wishes to receive the powerful benefits of Chinese Medicine treatments, but is afraid of or cannot tolerate needle stimulation.
Genuine essential oils are specialized plant extracts. The alchemical process of extracting the plant constituents strengthens and changes the therapeutic function of the plant, rendering essential oils more "drug-like" in terms of their effects relative to whole-herb extracts found in tinctures and herbal supplements.
This chemical change often allows one to enjoy the therapeutic effects of an essential oil without the same adverse reaction that one might have to the whole-plant. For example, people who are sensitive to fake or manufactured "fragrances" find that they can enjoy the true "scent" of a high-quality, unadulterated essential oil. Patients who have allergies or sensitivities to certain plants do not typically experience the same adverse allergic reaction to the plant's essential oil.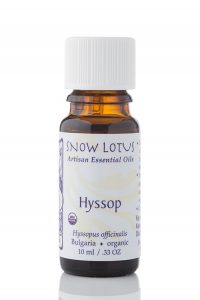 At Kunlun Mountain Acupuncture, we use essential oils from highly reputable companies that source organic or wild-crafted plants to produce unadulterated, artisanal, small-batch oils verified through independent third-party testing. Our primary oil supply company (Snow Lotus) is owned by a fellow acupuncturist with 35 years experience and formal training as a medical herbalist!
Due to insurance industry rules and definitions, the use of essential oils can only be billed to insurance when it is an integral and included part of your full acupuncture needle treatment. Therefore, Aroma AcuPoint technique treatments cannot be billed to insurance.
Group Acupuncture & Meditation (45 minutes): GROUP TREATMENTS ARE CURRENTLY UNAVAILABLE DUE TO PANDEMIC DISTANCING PROCEDURES.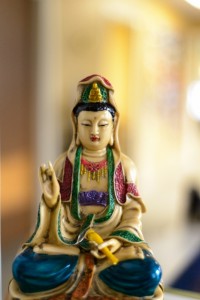 This treatment option is available for established and new patients. Patients will relax on yoga mats or chairs in the group meditation room.
Your acupuncturist will place up to five auricular (ear) needles in each ear. There are over 100 auricular acupuncture points. A specific set of five points that are appropriate for whole body detoxification, inflammation reduction, pain relief and hormonal regulations will be applied to new patients. The acupuncturist may vary these five points for established patients based upon that patient's current treatment plan. Meditative music is played while patients relax for 30 minutes with needles in place. Experience the enhanced healing energy of a group treatment!
Space is limited, therefore we do not accept walk-ins. You can reserve your group acupuncture treatment slot up to 24 hours prior to each session by using our online scheduling and finding each group acupuncture session under the "Classes" tab. For last minute availability, please call at least 30 minutes prior to treatment: 410-224-2328.
Acupuncture and Insuranc
e:

Acupuncturists at Kunlun Mountain Acupuncture are in-network providers with Blue Cross Blue Shield, and Aetna. We will submit claims on your behalf directly to these insurers if your health plan includes acupuncture benefits. 

We can help you to determine what your acupuncture benefit is and whether it has condition or visit limitations.  You will be responsible for paying your deductible or co-pay / co-insurance at the time of service.
Additionally, we can submit claims to your out of network health insurer (ex. United Health, etc.) if you believe you have acupuncture benefits, but we are unable to verify benefits for these plans – you must do this yourself. You will be responsible for paying the full fee at the time of service but may receive an out of network reimbursement check directly from your insurer for their allowable amount.
Acupuncture is currently not a mandated benefit in Maryland.  This means that while many health insurers, including the Maryland Health Exchange, may offer plans that include acupuncture benefits, it is up to your employer to choose one such plan.
Larger employers may offer you a choice of several plans that vary in monthly premium price. Typically, acupuncture is excluded from plans with lower premiums – in other words, you get what you pay for. 
We encourage you to ask your HR directors to choose plans that include acupuncture benefits. Unless they hear from you, they may not even know this benefit is important to you!
We have several affordable treatment options for those who do not have acupuncture benefits or who have exhausted their annual benefit limits and wish to continue treatment by paying out of pocket for our services.