Our Health Providers
Acupuncture and Oriental Medicine Providers:
Dr. Tracy Soltesz, D.Ac., L.Ac., Dipl.Ac. (NCCAOM), CZB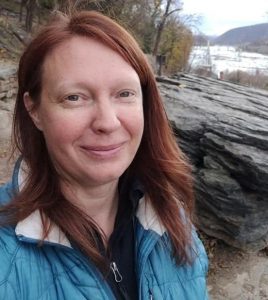 Tracy's diverse background in the study of foreign culture and health care brought her to the healing arts of Acupuncture and East Asian Medicine.
Tracy Soltesz has a Bachelor degree from the University of Maryland Baltimore County in political science, legal policy and advanced journalism. She obtained her Master of Acupuncture from the Tai Sophia Institute, now called Maryland University of Integrative Health (MUIH), and obtained her license to practice acupuncture in Maryland in early 2006. In 2016, she was a part of the first graduating class of the Doctor of Acupuncture program at MUIH. She holds a Diplomate of Acupuncture from the National Certification Commission for Acupuncture and Oriental Medicine (NCCAOM). Tracy is the Clinical Pearls editor for the acupuncture professional journal, the Journal of the American Society of Acupuncturists.
She has traveled throughout the world to study the ways in which our cultural, generational, and gender conditioning inform our health care decisions. Tracy has stepped foot on all seven continents, and has a goal of reaching each one a second time.
Tracy has trained with world renowned masters and scholars of Asian Medicine including Lonny Jarrett, Ross Rosen, and Dr. Leon Hammer, MD and has ten years of post-graduate apprenticeship in the Clinical Integration of Chinese Medicine in the 21st century.
Tracy is one of a handful of practitioners worldwide to receive certification as an instructor in the Shen-Hammer Contemporary Chinese Pulse Diagnosis lineage from Dr. Leon Hammer, MD and serves as a Member at Large on the Contemporary Oriental Medicine Foundation, dedicated to preserving and promoting the life work of Dr. Hammer.
After receiving her license to practice acupuncture in early 2006, she worked in numerous independent and supervised clinical settings throughout the DC Metro area before incorporating her multi-practitioner clinic, Kunlun Mountain Acupuncture, in Annapolis, Maryland.
Tracy continues to call upon her experience in the legislative and policy arenas to serve the acupuncture profession. Tracy has volunteered for the Maryland Acupuncture Society (MAS) since 2008, as the Legislative Committee Chair, President, and currently the Vice President of External Affairs. She served as the Chair of the Council of State (Acupuncture) Associations (CSA), a coalition of state-based acupuncture associations in the United States and was instrumental in the restructuring of the CSA from its informal status to the formal, legal entity now known as the American Society of Acupuncturists (ASA) – a national federation of acupuncturists.
Tracy also serves as adjunct faculty at MUIH, teaching both Master and Doctoral level Practice Management curriculum. At home Tracy balances her career life with being a mother to two young, active boys. She continues her love and pursuit of foreign travel, and is an amateur wine connoisseur and avid volunteer sommelier for local Maryland wineries.
 Camilla Schwarz, M.Ac., R.N., L.Ac.
Camilla Schwarz combines her background in western medicine as a registered nurse with her work as an acupuncturist.
 Her acupuncture practice is based on the belief that ancient and modern modalities of healing can be perfect and powerful partners. She draws knowledge from her experience as a nurse for over twelve years in the fields of medical/surgical, hospice, neonatal intensive care, postpartum care and operating room nursing. 
Camilla received her Master's degree in Acupuncture from Tai Sophia Institute in Columbia, Maryland (now known as Maryland University of Integrative Health). She is trained in acupuncture, gua sha, cupping, and facial rejuvenation. She completed a fertility apprenticeship with Nicole Withrow of the Withrow Institute and is licensed to practice in the state of Maryland. She specializes but is not limited to the treatment of infertility and disorders of the immune system.
She has been devoted to yoga for many years and in 2009, she completed a 200 hour yoga teacher training with Denise Lapides and Divine Light Yoga. She is passionate about the benefits of meditation and yoga and seeks to incorporate them into her acupuncture treatments when possible.
Camilla also has an ongoing and deep interest in nutrition and believes that the foundation for good health is good, real food. She knows first hand from her work as a nurse what effects poor nutrition can have on long term health and aims to educate and enlighten her clients about the power of making good choices. She strives to keep up to date in this field of continuously evolving information.
Over twenty years of caring for people has shown Camilla that the mind, body and spirit are finely interwoven and when one is out of balance, the others reflect it. Her aim with every client is to meet them where they are and find a place both client and practitioner can work together.
Sara Jaye Fenton, MAc, LAc, RYT
Sara Jaye's background in literature and philosophy lead her to developing a passion for Eastern healing arts and medicine.
Sara Jaye came to acupuncture looking for harmony. Eastern medicine acknowledges that body, mind, and spirit are all interconnected and one with nature. This ancient healing art recognizes that we require balance to function optimally. Through techniques that rebalance and regulate the whole body system, acupuncture enables many different ailments to resolve.  In her own experience as a patient, Sara Jaye observed directly how regular acupuncture treatments relieved her anxiety and chronic pain. This inspired her to commit her life to the practice of Eastern healing arts and to share the gifts of the medicine. It is her goal to co-create empowered healing with her patients.
Sara treats people with a myriad of symptoms. In her clinical experience she has seen acupuncture positively impact patients struggling with mental/emotional issues, PTSD, women's health, addictions, as well as acute and chronic pain.
Sara Jaye holds a certification as an Acudetox specialist as well. She enjoys using cupping, gua sha, and other Eastern medical modalities to address her patients' unique needs. Her treatments have a foundation of breath work, dietary, and lifestyle advice as she aims to bring balance to the whole being.
She holds a Master of Acupuncture from Maryland University of Integrative Health. She is also a registered yoga teacher and certified Reiki II practitioner. When she isn't helping others, she enjoys exploring nature and culture around the world.
 Massage Therapy:
Katie Moran, LMT
A graduate of the Baltimore School of Massage, Katie specializes in integrative holistic bodywork, with an emphasis on energy balancing through several modalities. She has dedicated the past decade of her life to cultivating and practicing a thorough, unique approach toward sharing light of healing with those who seek it.
Katie is passionate about exploring deep ancient modalities, and a fundamental understanding of Ayurvedic principals guides every session which tailored to the needs of each client.
In addition to her massage training, Katie holds certifications as an Usui & Crystal Reiki Master, Yoga Teacher, Ayurvedic Yoga Therapist, Harmonic Sound Therapist, and Yoga Nidra Meditation Guide.
She loves combining traditions of time proven Earth medicine with modern science to achieve well rounded healthcare and wellness. Her favorite treatments include combinations of acupressure, craniosacral, myofascial release, vibrational sound healing and reflexology.
In addition to her work at KMA in Annapolis, Katie maintains a private practice in Cockeysville, Maryland where she offers therapeutic massage, energy and vibrational sound treatments, and personalized yoga therapy session.